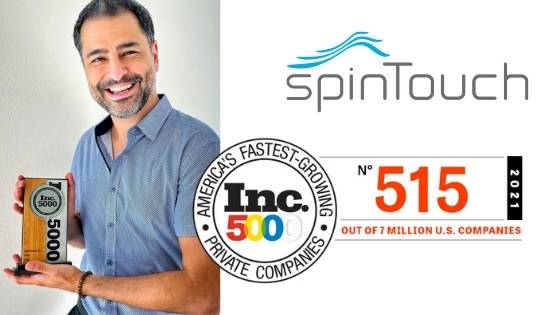 02 Jan

spinTouch Earns Spot on Inc. 5000 Awards for Fastest Growing Companies

Our rapid growth of the past two years has landed spinTouch a coveted spot on the 2021 Inc 5000 list of America's fastest-growing private companies. This list is made from scratch each year based on the growth of revenue compared to the previous year. Some of the country's most prestigious companies gained some of their first national recognition on this list, including Microsoft, Dell, Timberland, LinkedIn, Domino's Pizza, and Zillow.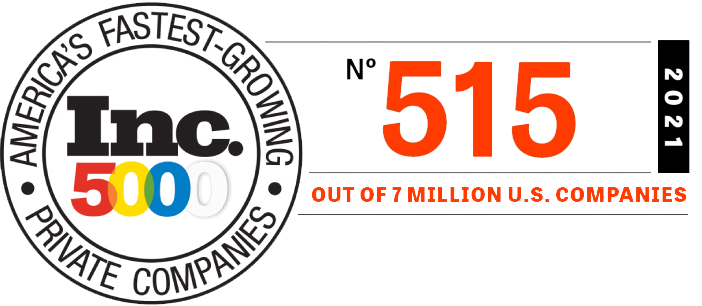 We're honored to represent California and the digital marketing and technology industry by demonstrating something we've known all along: Technology isn't just shaping the future, but also the present.
spinTouch's Rapid Rise to Fame
spinTouch opened its doors many years ago to help fill the gaps in digital signage technology. Just as we do today, we started with a vision of bringing our clients' ideas to life and worked tirelessly to develop the tools and solutions that would enable creativity and connectivity to thrive. spinTouch is still upholding its original mission and vision, but the pandemic presented new opportunities to push the envelope even further. 
Much of our growth in the last two years that has earned us recognition from the Inc 5000 organization is due to our dedication to the user experience. We've made it our mantra to deliver UX in every sense of the word, which is why we developed the spinTouch RapidScreen. The critical effects of the pandemic showed us a need to bring UX into new safety protocols and procedures as businesses raced against the clock to reopen safely. UX was a necessary component of reopening, but it wasn't one that businesses had the time to develop nor the resources to create. So we did it for them. Our temperature screening kiosk combined our past years of UX design with modern technology to give businesses ready-made solutions for public safety. 
It wasn't the only piece of our rapid growth period, but it did play a large role in helping to solidify our reputation as a leader in digital technology and UX engineers. And we're building on those successes, lessons, and experiences every day. 
What's Next for spinTouch?
So far, 2021 has been a busy one for spinTouch. In addition to the Inc 5000, we've also earned the stamp of approval as a DesignRush Accredited Agency 2021. This accreditation places us amongst some of the most prestigious agencies in marketing and technology and reflects the high standards of excellence by which we operate. 
We're proud of our journey and the solutions we've contributed to businesses across the country, and we're continuing to innovate. See the full Inc 5000 List of America's Fastest-Growing Companies 2021 and stay up to date on all our latest developments.