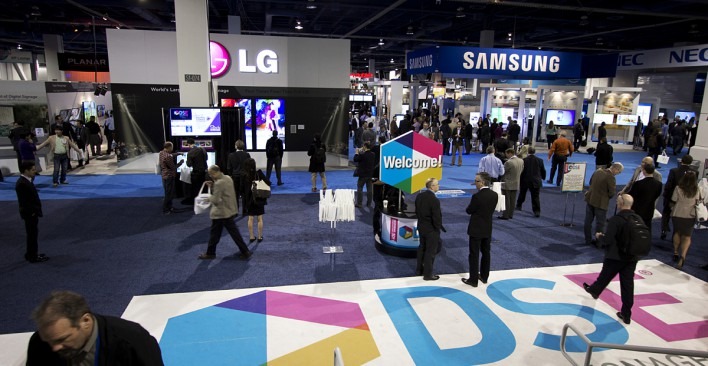 14 Apr

Killer Interactive Digital Signage Products You Might Have Missed at DSE 2017

What a week it was at the 2017 Digital Signage Expo in Las Vegas.  As usual, hundreds of technology packed booths with digital signage companies of all shapes and sizes lined the floor at the Las Vegas convention center. Tens of thousands of attendees from all types of industries including hospitality, retail, education, and corporate flocked across the trade show floor eager to see the latest and most innovative solutions to hit the market.

For those who might not know, the digital signage industry as a whole is growing rapidly year over year.  Markets and Markets reports that the industry is projected to Reach USD 27.34 billion by 2022. North America is expected to hold the largest market share while dominating the digital signage industry between 2016 and 2022. Some of the major players in the digital signage market include Samsung Electronics, LG display, Sharp Corporation, Panasonic Corp. With major household names like these driving innovation, it is no wonder why the technology and wow factor is growing exponentially year after year.
A big year for interactive
No matter which direction you walked you were sure to come across interactive digital signage. Just about every surface you can imagine possible was made interactive. This included interactive touch driven kiosks, projection based interactive floors, ginormous 4K multi-user video walls, and even fully interactive 3D holograms.
It was obvious that both hardware manufacturers and interactive software developers are getting out ahead of consumer interest.  Audiences are becoming much more immune to passive digital signage. Consumers have much higher expectations for "immersive experience" and interactive digital signage is a more effective way to engage and captivate the minds of users. The ability to be in full control of the digital experience in front of you helps increase engagement and dwell time. This is helping brands driving messaging and various initiatives on a whole new level.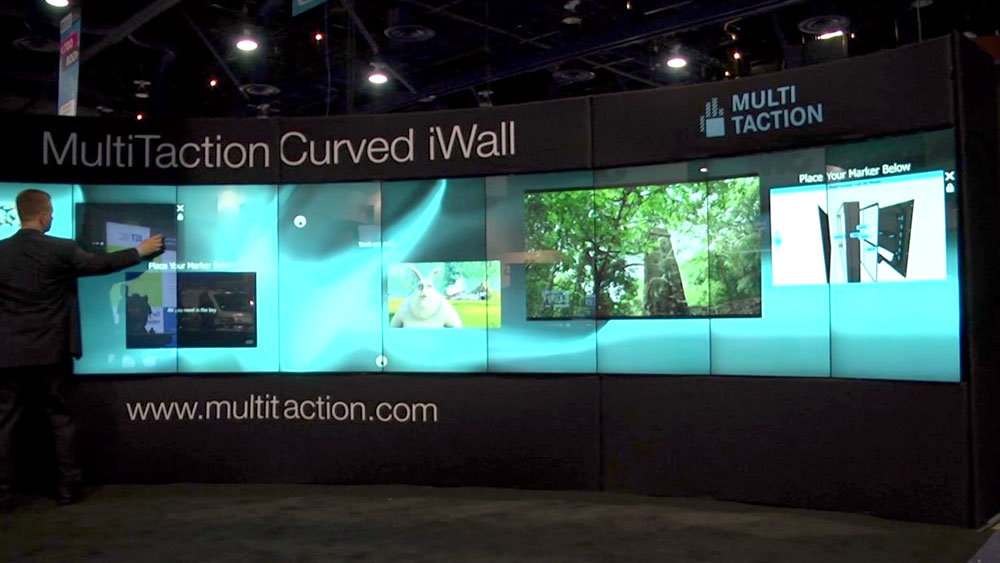 The latest interactive touch screen display solutions
There were two interactive digital signage hardware manufacturers, in particular, this year that were pushing the envelope and rolling out innovative technology unlike any other. At the Elo Touch Solutions booth, they showcased their 10-point touch IDS interactive video wall solution. The video wall shown below is powered by three 55 inch 4K multi-touch display screens, brought together in a 1×3 video wall array creating a whopping 3 by 4K resolution. Content creators now have a canvas unlike any other to showcase the most powerful high-resolution content without any limitations on the hardware side.
Next up was UK based touch technology manufacturer Zytronic who presented their patented and award winning projected capacitive technology (PCT™ and MPCT™) touchscreens. This year Zytronics was showcasing their new Force Sensing Technology, which is very similar to our iPhone force touch features. What is amazing about this technology is that when combined with the right software you are able to create an unparalleled multi-touch experience for your audience. The degree of force that one uses with an interactive touch display will trigger various levels of engagement.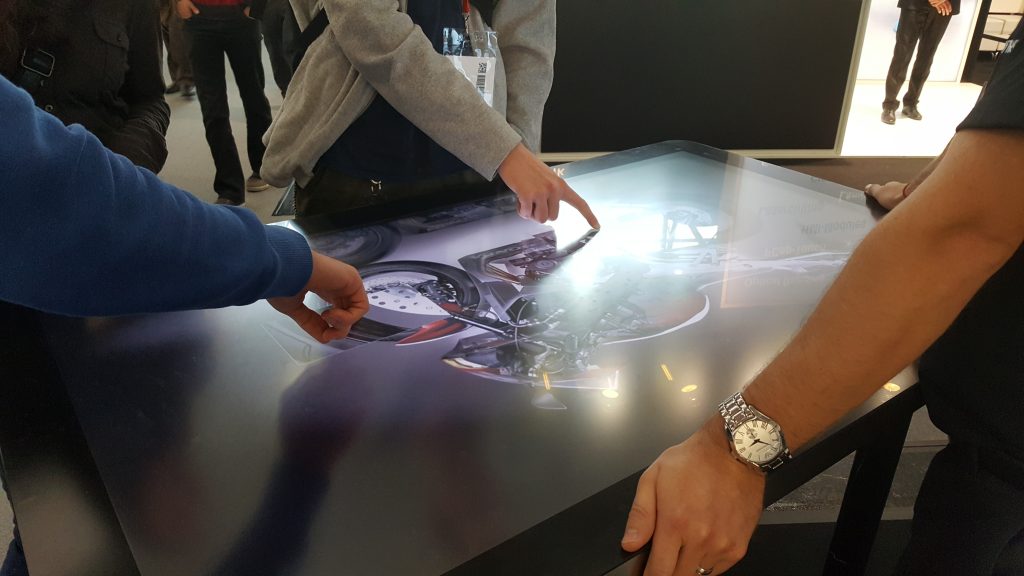 For example, if you're looking at a map, the more forceful touch will allow you to zoom in on the location rather than having to use multiple touch points to pinch and zoom through deeper levels of content. This allows applications with a well-developed user interface to be able to shorten the time it takes for a user to navigate to the content they are interested in, ultimately providing a better overall interactive experience.
While we're still on the topic of hardware let's not forget about one of the most overlooked and underrated aspects of an interactive digital signage setup – the mounting solution. This year Premier Mounts out of Fullerton California showcased a wide range of displaying mounting hardware that offers much more customization and extensibility for interactive video wall installations than any off the shelf mount manufacturer could offer.  Oh and, Happy 40th Anniversary to Premier Mounts whose digital signage systems you have probably seen set up at various Macy's, Chase banks, and Las Vegas' own MGM Grand Hotel.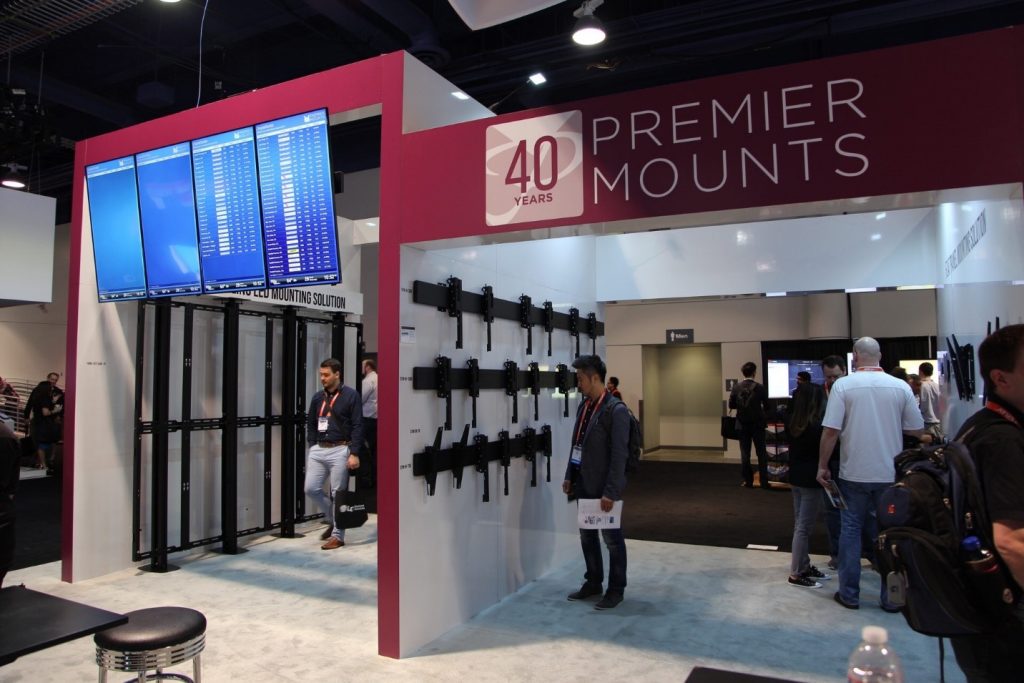 Interactive Digital Signage Software
I think it goes without saying that digital signage hardware is only as good as the software driving it. However, with interactive digital signage software, all things were not created equal. A few years ago, if you walked the DSE floor you probably saw most multi touch monitors simply running Microsoft Paint or perhaps a picture collage app of some sort. A year or two later you might have seen custom software applications popping up that resembled an interactive website, but they still didn't have the same app UI/UX that you are used to using on your smartphones and tablet devices.
At DSE 2017, content and interactive software continued to evolve. Applications like myShowcase™ Interactive Presentation Software raised the bar both on the integrator and user side of things. Being able to showcase anywhere from a few dozen to 1000+ HD digital assets (videos, images, text) you are able to build a beautiful and highly engaging interactive presentation without any design or development required. Whether you are looking to promote your brand, showcase products, or services, myShowcase empowers companies across various industries to tell a killer digital story. Users are sure to stay engaged with your content thanks to the sleek user interface that resembles that of which you see on your iOS, Android, and Google devices.
Now to be up front, you will still need to have great content and digital assets to work with, as you can see from the Mercedes presentation our content creation agency partner FLX Interactive helped us with. Also, a big shout out to Rave Publications for the great coverage of DSE and for being willing to showcase our interactive presentation software at TouchSystems booth.
If you missed DSE 2017 you certainly missed out, but don't worry, there is always next year. However, if you want to learn more about the interactive digital signage technology rolling out this year, just let us know, we love to talk tech, especially #interactive #digitalsignage.