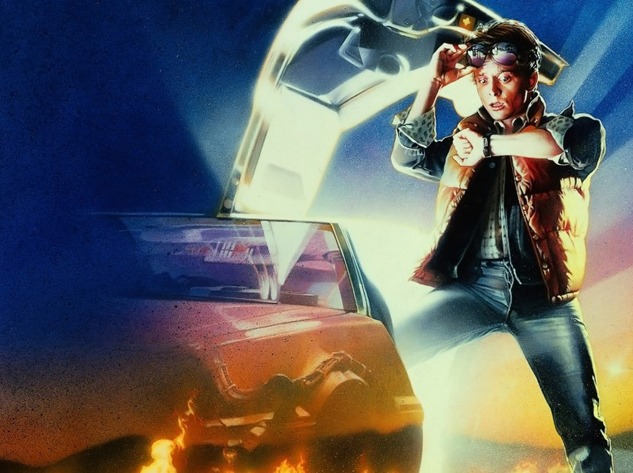 13 Nov

From the Big Screen to Your Venue

October 21, 2015 marked the long-awaited day that Marty McFly and Doc Brown traveled to in Back To The Future Part II. On this day, and upon his "arrival," Marty's eyes opened up to flying cars, hoverboards, and much to his surprise, he was able to nuke a dehydrated hockey puck-sized pizza into a large supreme!

Now, if you're sitting by a window, a quick peek outside will confirm that we have yet to see flying cars and kids riding hoverboards. To date, several companies, including Lexus have fallen short in their efforts to bring us a real, functional hoverboard.

Hollywood has a history of prophesying technological advances of the future, and in some instances they get it right. Michael Bay, the man behind multiple blockbusters, showcased one such "future" technology in The Island, a 2005 movie starring Scarlett Johansson and Ewan McGregor. In one of the scenes in which McGregor's character, Lincoln Echo Six visits Dr. Merrick's office; the two are seen conducting their meeting across a multi-touch interactive table.

At the time, most conversations around multi-touch tables were either conceptual (and triggered by a movie scene) or heard in labs and among researchers and tech geeks. Although a few companies boasted their (early) advances, the average consumer would not interact with this technology until years later.

The past decade has ushered many design and engineering firms into this space; competition has been fierce, and with new emerging technologies, we find ourselves in truly exciting times for our industry.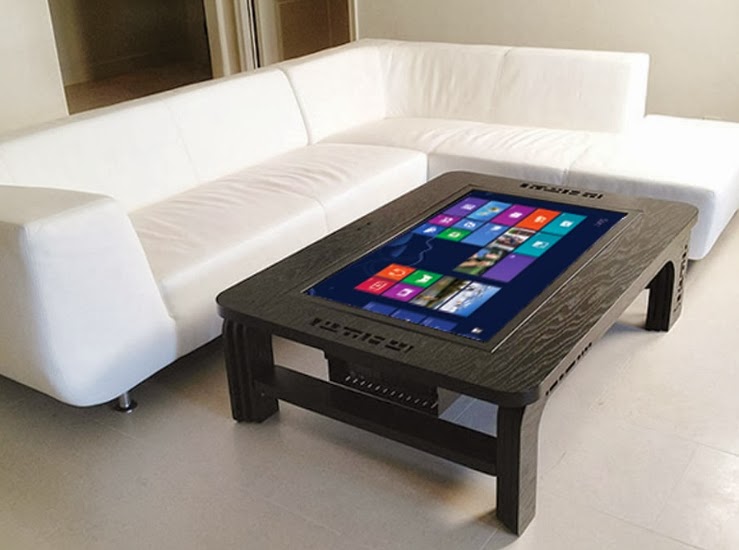 In 2009, spinTouch began its R&D around the design and development of our very own multi-touch, interactive table. We had already succeeded in bringing the concept to life through several custom projects, yet we wanted to step up our game and introduce the ultimate Plug & Play solution. We initially introduced the Mozayo in 2010 while committing to improving on our engineering process, incorporating the latest technologies, and future design enhancements.
Fast Forward to 2015
The HERO Comes Along: No, we're not referring to the Mariah Carey song. Earlier this year, we proudly introduced the newly designed Mozayo: Hero. What had started as a passion project in 2009 has morphed into an industry-leading, multi-touch interactive table that is finding its way into many corporate headquarters and office spaces, high-end retail locations, hotel lobbies, universities, restaurants and lounges, airports, cruise ships, and showrooms.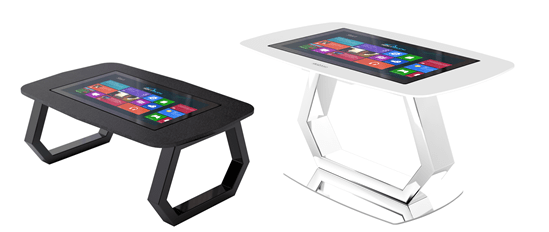 The Mozayo Hero, along with the Mozayo Legend is a source of pride for spinTouch. This sense of pride is a direct result of the high-level of positive feedback and reception from our clients and their audiences.
A True Testament to Design & Functionality
Among its features, The Mozayo line of multi-touch, interactive tables by spinTouch offers a zero-bezel, continuous glass surface with a progressive base design available in black, white, and chrome. Designed and built in two sleek and distinct form factors, the Mozayo comes in both coffee table and bar-top height. These ADA compliant sizes provide users a convenient and enjoyable experience.
More than just a "wow" factor by way of its elegant design, clients are finding that Mozayo serves as a critical tool for conducting business.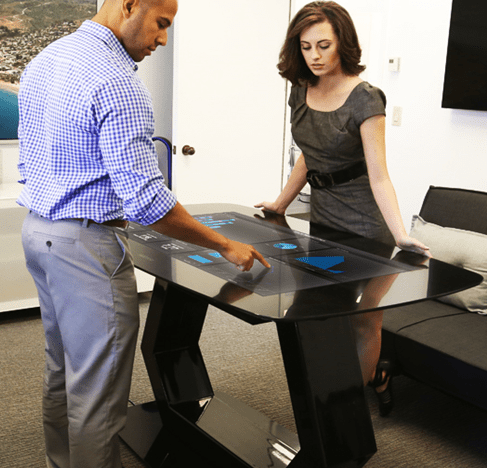 Our clients in the luxury real estate market leverage the Mozayo table, along with myShowcase– the interactive presentation software by spinTouch, specifically designed and developed with multi-touch screens in mind, to present images, videos, and other creative content highlighting beautiful properties on the market.
Not unlike a Ferrari, Mozayo commands attention, easily attracting and capturing an audience.
In a hotel lobby, guests are found sitting around the Mozayo, looking up fun activities and excursions, making dinner reservations, and finding out about the day's weather while checking traffic and flight information.
Creative agencies, architectural firms, and educational institutions alike deploy Mozayo tables in their common areas to engage creative and curious minds in collaborative learning and brainstorming sessions.
Whatever the environment, and whatever the content, Mozayo has been designed and engineered as a turnkey solution for businesses and institutions across a wide range of industries.
Mozayo's interactive ultra-slim edge-lit LED Full HD display features Pro-Cap 40 point multi-touch technology. Its tempered glass, water resistant surface provides enhanced touch fidelity.
Connectivity features include WiFi, Bluetooth, USB, HDMI / Display port, and Microphone input / Audio output. Featuring the latest generation Intel chipset, dedicated graphics, and your choice of Windows 8 or 10. To help you hit the ground running with content we have even included partner versions of our most popular interactive software myShowcase™ and dreamTouch™.
And finally, while we offer upgrades, including RFID / NFC / iBeacon / WiDi, ATA travel case, and custom software development, we're sad to say that you'll have to wait on that hydrated pizza Hollywood promised us.
Have any questions about how you can leverage the Mozayo Multi-Touch table in your next project?Contact Us
Navid Firoozi | Director of Marketing | spinTouch